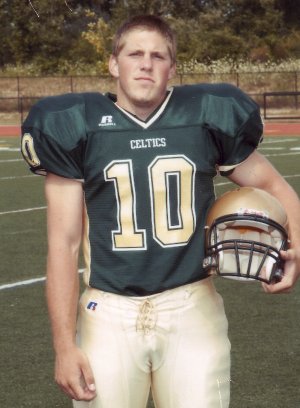 "I work for my father on the family farm, which is why I love to be outside. My family has always pushed me. Therefore I strive to be the best in everything that I am involve in, and set high goals to push me even harder. Grades are very important to me as well as having prestige. Having a family is important to me, and the sports teams that I play for are an extension."
Steven Mehrer
Address:
3551 Osbun Road
Marion, Ohio, 43302
Phone:
(740) 499-2669
Email:
bmswavel13@aim.com
School:
Ridgedale High School
Year:
2011
Coach:
Jon Butchko
Sports:
Football, Basketball, Baseball
Positions:
QB, Point Guard, Out Field
Height:
5' 11"
Weight:
167 lbs
GPA:
3.6
Sports Honors:
2 time player of the week in football; returning starter in baseball
Scholastic:
Honor roll; Academic Letter
Clubs:
Leo Club - Secretary; Spanish Club; FFA
Goals:
To obtain the goal of a history teacher and to pursue the dream of getting PhD in history, to be a positive role model for my community, also to change the culture in the school and community, to maintain a 3.6 GPA or higher through all the schools I may attend.
Hobbies:
To cook, learn about American history and wars, to hunt and to be in the outdoors.
Major:
History
Career:
History teacher/professor
Stats:
Bench Press: 200lbs.
40 time: 4.75 seconds.
Shuttle Run: 4.5 seconds.
Squat: 375 lbs.
Vertical: 26". 6td.